---
Spoken Gifts Dishes out Personalised Quality Products and Extraordinary 24/7 Customer Service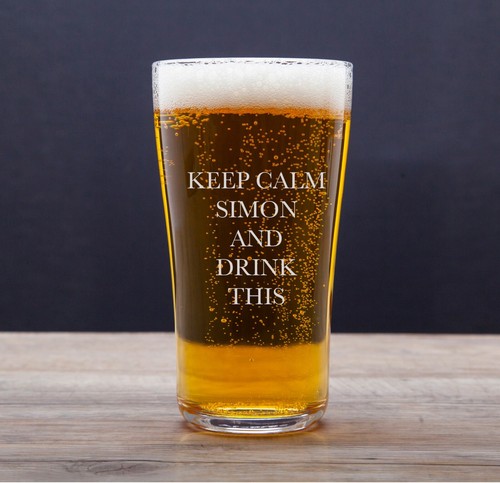 Personalised Keep Calm Tankard
The Keep Calm Glass Tankard is perfect for all occasions.
Personalise this Keep Calm Tankard with any name up to 12 characters, the rest of the text that you see on the image is a fixed part of the design.
The words 'KEEP CALM AND DRINK THIS' are fixed text and do not need to be added to the personalisation when ordering.
All personalisation will appear in uppercase.
Great for Birthdays, Father's Day, Wedding Gift, Christmas Gift.
CE Marked - 1 Pint
Volume - 20 Fl Oz / (57cl CE)
Material - Glass
Personalisation Requirements:
Name - 12 characters max
Spaces & Symbols do count as characters
PLEASE: Send the personalisation in the notes when checking out. OR Click Here for sending us message through eBay Message System
If you are unsure about the personalisation, dont worry. We will let you know if anything is wrong with your message.
Please avoid using special characters or accents on your personalisation
Please refrain from using all capitals in your personalised message. If the message is all in capitals you will find the personalisation extremely difficult to understand.
Please double check the personalisation that you send to us as we copy and paste the details and what we receive will be how it appears on your product.
We provide personalised and ready to go gifts through eBay. If you are unsure about purchasing personalisations through eBay please don't hesitate to contact us to find out for more information: Click Here
When clicking 'Buy It Now' we ask for immediate payment.
If you have made an offer, we expect payment to be made when the offer has been accepted so that we can ship this out to you as soon as possible. Please do not make an offer if you do not wish to purchase this item.
We only accept PayPal as payment unless stater otherwise. If you wish to use an alternative method of payment please contact us.
When purchasing personalised items, please keep in mind that these first need to be printed, engraved, stitched etc. before the item is despatched.
Please note: We do not ship during weekends or bank holidays and any time frame we give is for weekdays only.
Returns will be accepted for DOA & Faulty products within 30 days of purchase. If you change your mind about the item we cannot do anything about it as we cannot resell personalised items. If the item is not personalised we will accept returns if the item is sent back to us at the buyers' expense (using a suitable tracking method), and as long as the product is still in its original condition and packaging. Please allow up to 5 days for any refunds to be actioned.